Typhoon
<Typhoon>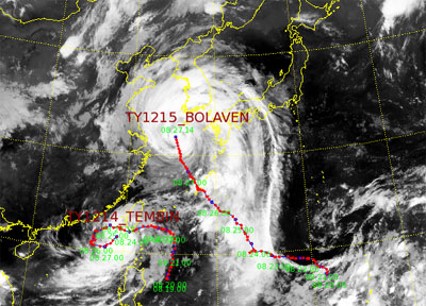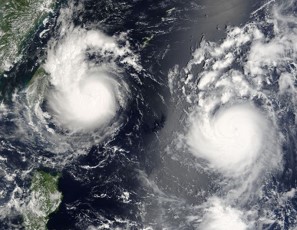 <Track of Typhoon Bolaven and Tembin> <Typhoon Saomai and Tropical storm Bopha>

<Centroid-relative tracks with respect to the CMR height>
Interaction between two tropical cyclones (TCs), so called "Fujiwhara's effect", is one of the most dominant cause for inducing typhoon forecasting error.
Typhoon Bolaven (2012) and Tembin (2012) is the first typhoons which affect Korean Peninsula within 43 hours. It is known that the rapid track change of Tembin is caused by Fujiwhara's effect. But, the it is still not clear that how and when this interaction affect their track and intensity.
We investigate the interactions between Typhoon Saomai (2006) and Tropical storm Bopha (2006) which is related to the Central Mountain Range (CMR) in Taiwan. We found that the interaction regime between Saomai and Bopha is changed according to the CMR height by altering the tracks and intensities of two TCs.
Two TCs can merge, move away, or cyclonically rotate depending on the storm structures, intensities, and the separation distance.
Advances in our understanding of binary tropical cyclones will eventually increase the predictability of typhoon forecasting.